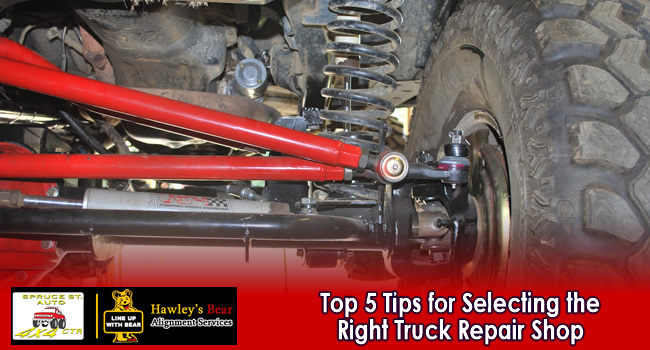 When it comes to keeping your truck running and on the road, expert repairs are essential. Since these large, complex machines transport huge loads across long distances, usually on rough terrain, their bodies and engine have to withstand a lot of wear and tear. Your objective as a truck owner is to reduce this wear and tear by making sure everything is in working order so that breakdowns do not occur. Therefore, it is important that you have access to a reliable truck repair shop.
When you are facing problems with your truck, it can prove difficult to find the right shop for your needs. The key, though, is to ask the right questions. Here are some tips to keep in mind to help you select the right shop:
Ask Around
Start by asking your family and friends who have had experience with the mechanics in your area. In most cases, you will get an honest opinion about their experience going to those repair shops. This can help you save money or avoid a fraud in the process.
Look Beyond Price
Let's face it – you want an affordable rate for the repairs required on your truck. However, while price is an important factor, opting for the cheapest truck repair shop can be a mistake. Research and comparison is important to take an appropriate decision. Price isn't an indicator of quality when it comes to truck repair.
Check Online for a Truck Repair Shop
Although your family and friends may have given you some useful advice about the truck repair shops they have used, chances are they have never faced a major automobile issue that required attention. Also, you need to discover all of your options and what better way to do that than checking online reviews where unbiased consumers share their personal experiences about different truck repair shops.
Play the Question Game
Being a consumer, you can ask a truck repair shop about their warranty policies, customer service, credentials and experience. Look around for places that offer extended warranties and customer guarantees on parts. Also enquire about certification for their employees and also the level of experience they possess in the field.
Get Estimates
If your truck breaks down and requires major repairs, you should get estimates. This is because when you don't have a regular repair shop that you go to, written estimates can ensure that the shop doesn't charge you for unneeded services. Moreover, if the written estimates are far from the same, it indicates that the truck repair shop has tacked on unnecessary parts and repairs.
And that's about it! As a truck owner, access to the right truck repair shop is crucial to ensure your automobile stays on the road and in top condition. Follow the tips mentioned above, and rest assured you will find the right shop for your needs.
---