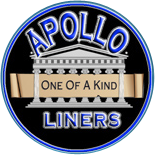 Apollo Liners
An Apollo Bedliner™ not only protects your truck - it improves the look and the resale value as well. It prevents corrosion and rust from forming on the truck bed, and since it's sprayed on there is no gap between the bed and the liner. It is rugged and slip / skid resistant, so your loads won't slide as much as before.
For those rugged, off-road trucks remove the floor mats and spray the entire floor of the interior of the vehicle. The Apollo Bedliner won't get moldy or damaged by water, as an interior floor carpet would.
It makes clean-up easy while it helps quiet the noise of everyday vibrations. The bedliner contains Dupont™ Kevlar® fibers,and our proprietry formulation ensures that your fishing gear, tent, toolbox or anything else you haul around on your weekend getaway will never scrape the liner away from the original metal.
Whether your truck is brand new or twenty years old, it's never the wrong time to spray on an Apollo Bedliner™. It keeps new trucks looking new, and brings life to older ones. Because it is sprayed on, and does not require any cutting or drilling or bolting, it won't affect your truck's factory warranty. Protection, strength, beauty and reliability - everything you can depend on from an Apollo Bedliner™.